This week (September 13-17, 2010) is Book Blogger Appreciation Week! BBAW is a week long festival celebrating the community of book bloggers and their contribution to preserving a culture of literacy through book reviews and recommendations, reading reflections, and general bookish chat.  Events include daily blogging topics, blogger interview swaps, special guest posts, and so much more!
Today's posts for BBAW are interview swaps – bloggers have been paired up with other bloggers to interview each other about pretty much anything we want! I really love interviewing other bloggers, so this is probably my favourite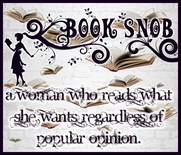 topic for this week. It's even more fun since the person I'm interviewing – Laura from Booksnob – and I were already followers of each other's blogs! I got to ask Laura a bunch of questions, hopefully you'll enjoy what she has to say.
When and why did you start book blogging?
I started blogging at the beginning of February, 2010.  I have been blogging a little over 7 months now and love it!

I had wanted to start a book blog for about 2 years but I was busy getting my master's degree at the time so I chose to wait.  Then in January, 2010 my son became very depressed and my husband and dog got physically ill, I was basically at my wit's end and thought I need to do something to relieve my stress or have a nervous breakdown.  I choose blogging "therapy" to relieve my stress and give me an outlet to express myself.  It worked.
Your blog's subtitle is "a woman who reads what she wants regardless of popular opinion". What made you decide to use that as your tagline?
I wanted a tagline that explained what being a Booksnob meant to me.  Since my blog name is Booksnob I wanted people to understand  that I am not a snob nor really a typical book snob but just a woman at a point in her life where she reads what she wants and not what others tell her.  So basically I never accept books from people, who tell me to read this or that, because I have so much I on my To be Read list.
Tell me about a book that you love (or hate) that most people hate (or love). Why do you think that you enjoyed(/disliked) it so much even though other people don't?
This is a really hard question.  Wow.  Umm, I really hated The Memory Keeper's Daughter and the rest of the world all seemed to think it was great.  Mostly what happens is a book becomes really popular and I read it, thinking I must be involved in reading this great book because the world loves it and inevitably it turns out to be mediocre.

I am trying really hard to think of a book that had an opposite reaction but I can't right now.
What has surprised you about having a book blog?
The most surprising thing to me is how much I have learned about computers and the blog world.  As a forty something woman, my knowledge of computers is limited but is definitely improving fast because of blogging.  Also surprising to me is that I have so much to write about.  When I started, my posting was limited but today, I feel like I could write a book.
What do you find the most challenging about book blogging?
Finding the time.  I teach high school social studies full time and have two kids with Special Needs and of course a husband who is special and so with all my work, chores, and time with kids I tend to be up late at night posting and reading a bit less than before.  So I have been super tired since school began.
You'd never know it from my blog design, but I'm absolutely obsessed with the colour purple, and your blog design is the most beautiful shade of purple with lots of open books around. Why did you decide to go with that colour scheme and design?
I absolutely love your blog design as well.  Love the scrabble tiles.I chose Purple because it is my absolute favorite color and has been since I was a child.  So that was easy.  The background is flying books and something about open books flying appealed to me and so I also put them on my business cards.  When I worked with Larissa (the woman behind my blog design)  I told her that I love nature reading, flying books and have long hair.   I like to think that the girl in the header is holding an olive branch while reading.  The metaphor being that while I always have my nose in a book, I am aware of the world around me and try to make a difference.   I think the design of my blog suits me perfectly.
What is your favourite thing about your job as a teacher?
Making connections with my students.  I love it when they high 5 me, or hug me, or just come to visit for no reason.  High school kids are really just young people who need love like everyone else and so I just love connecting to them in their world.  It is a really powerful experience.
If you could teach a course on something (anything) that isn't normally taught, what would it be?
It is my secret dream to teach a course called History through the Novel.  In this ideal course of mine, I would like to explore, investigate and basically pick apart novels and learn (teach) history from a narrative point of view.  Unfortunately it will probably never happen at the high school level due to low funding.  Maybe I can create the course and teach it in college.
What book do you remember most from your childhood? Why?
My favorite book as a child was The Velveteen Rabbit.  It is so magical.
What is the one book you think every child should read?
Oh my, another hard question.  I can't pick one book per say because every child is unique and must find the types of books that suit them.  I just can't choose just one book for every child.
Thanks so much, Laura, for taking part in this interview! It was really fun to come up with things to ask you, as well as to read your answers.
Don't forget, I've also been interviewed over at Laura's blog today. Make sure to check it out and show her some comment love!